UKPressOnline to add historic title to archives
The Watchman, the first Methodist newspaper, was born in the aftermath of the Reform agitation and legislation of the early 1830s. The Wesleyan Methodist leadership was staunchly conservative, led by the autocratic Jabez Bunting, noted as stating that Methodism was as opposed to democracy as it was to sin. The same was far from true of Methodism in general; four of the six 'Tolpuddle martyrs' who attempted to form an early Trade Union in Dorset in 1834 were Methodists, and Methodists elsewhere (especially in northern cities) supported Reformist or radical political activity.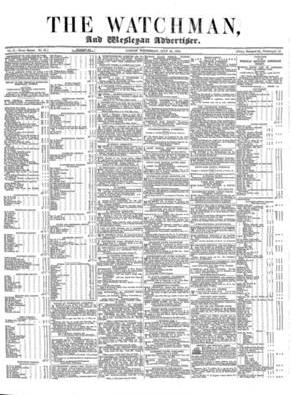 But it was the issue of increased recognition of Irish Catholicism, seen by some as a threat to the British establishment, that triggered the inception of a newspaper to be an official organ for the Wesleyan body - or at least the Buntingite hegemony. The long running and widely-circulated Methodist Magazine, despite being the connexion's official organ, was sometimes felt to be too free. The Watchman's stated aim was to defend 'the principles and economy of Wesleyan Methodism, as settled by its venerable Founder and by the Conference since his decease'. But the opening article set out its 'paramount duty' as '...a religious monitor on political subjects ... moderating the effervescence of party feeling on both sides'. Thus its reactionary political sympathies were evident and it was supported by The Times, notably pro-establishment, which occasionally reprinted its articles.
It was not universally well received, and despite its official status did not represent the spectrum of Wesleyan opinion although only the Wesleyan Times from 1839 was a serious rival until the liberal Methodist Recorder of 1861, which eventually absorbed The Watchman. It ceased publication in 1884.
Dr Peter Forsaith, Research Fellow of the Oxford Centre for Methodism and Church History
The Watchman Archive is available to Public, Education and Library subscribers. The Watchman Archive is a joint project, with images of volumes in the special collections of Oxford Brookes University digitised and published by Microform Academic Publishers through Digitorial Ltd's dedicated newspaper archive platform.